Amazon Echo, The Connected Hub
Amazon Echo is an Internet connected appliance that has the potential to change your life. I've written before about my disappointment in voice recognition technology. It's been over three years and Siri, Apple's "intelligent personal assistant" still fails to impress me. Echo, however, immediately made me a believer in the power of voice interface.
Alexa is the name that Amazon has given to the friendly voice companion that inhabits its Echo device. Simply speaking the word Alexa allows you to wake up the device and give it commands. Using far-field technology and seven noise-cancelling microphones, Alexa can hear you from a surprising distance. My Echo is set up in my kitchen and it can easily hear the wake word from the dining room and even into my living room up to 30 feet away.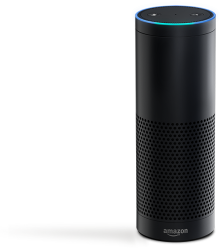 The most impressive thing about Echo is the integration with other devices and services. Obviously, being an Amazon product, Echo integrates seamlessly with other Amazon services like Prime Music. You can easily add items to your shopping list/cart, which is super handy when you run out of paper towels. Supported third-party apps include Pandora, iHeartRadio and tunein. Echo will also allow you to control other connected devices like Phillips Hue or WeMo home automation products from Belkin. IFTTT is another Echo-integrated cloud service that I've written about before. IFTTT allows Amazon to have even more tentacles into other services and devices.
The Internet of Things is still a relatively new concept. Until now, connected devices have been fragmented and clunky. Echo is one of the first really useful products that possesses potential to serve as a "hub" for these other smart products. Amazon is making itself an essential part of our digital lives and if Echo is any indication that could include a significant role in our home as well.