Gowalla and Location-Based Social Networking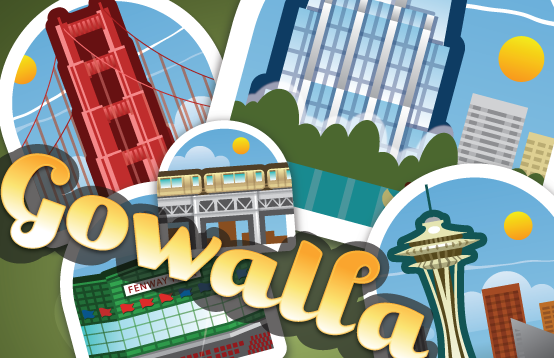 Gowalla is a fun, location-based social networking game for your iPhone or other mobile device. With Gowalla, users can check in at each location they visit. This lets friends know where you are and also earns points towards pins which you can earn for both shear volume of check-ins or for visiting specific locations. The service can be connected to both Twitter and Facebook accounts. Whenever users check in they can also post status updates to their social networking service. Gowalla offers a limited number of developer created "trips" or pre-picked locations to visit. Some examples of "trips" you can take in Gowalla are the Fort Worth Zoo Safari or the Nashville Honkytonk Stomp. Another fun piece of the game is the ability to pick up items other people have dropped in any given location by swapping with something in your own pack. This adds a level of interactivity that is lacking in other location-based games lack.
Gowalla was launched on the heals of another location-based game called Foursquare, but it sure looks like Gowalla is gearing up for a showdown with their location-based big brother. In December the development house responsible for Gowalla, Alamofire, announced that Gowalla had raised $8.4 million in a round of venture capital funding. Unlike Foursquare that opens it's application city by city, Gowalla crowdsources location information allowing users to create locations when none exist. This gives them the distinct advantage of being able to penetrate markets early as long as there are committed Gowalla users in the vicinity. Also, for you iPhone users, the Gowalla application provides a slicker interface. After using both of these applications I definitely prefer Gowalla, but it will be interesting to see how the battle plays out.
In an increasingly connected age, we live our lives in public. Location-based games are a logical step that adds a level of fun to the equation. Concerns may exist about sharing exact locations publicly. While this can be worrisome for those that value their privacy, an easy solution presents itself. Simply wait until leaving a location to check in. This way users can still share their location without sweating that stalker that's been trailing you.  With more people carrying smartphones with GPS technology, Gowalla and Foursquare are gaining in popularity. These games allow users to express themselves by sharing their favorite hangouts. It also adds a new layer to social networking that is intriguing to say the least.