My Top Ten iPhone Applications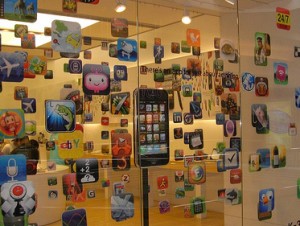 With the release of the new iPhone 3gs I imagine we will have a new wave of iPhone converts. What is getting less publicity but is probably more a boon to Apple's dominant market share is the lowered price of the 3g phone to $99. This puts the iPhone at a much more palatable price point for those that still couldn't bring themselves to spend $200 on a phone. With all of the new users, I thought I'd take the time to list my top ten favorite iPhone applications. So without any further delay, the list:
10. Cooliris – Cooliris is a cool desktop application/add on, but it's even better on the iPhone. Not only can you use it to search images across the web, but you can also plug in Flickr and Picasa accounts. No need to keep photos on your phone, just upload them and access them from anywhere using this sharp interface.
9. Fring – There are dozens of IM apps out there, but so far Fring is my favorite. It supports Google Talk, MSN, AIM, ICQ and Yahoo, but the really cool feature is the Skype support. Use Fring to make all your international calls at a much-reduced rate. Also, if you are one of those people that love a multi-tasker, then it also supports Twitter although in a very limited and cumbersome way.
8. Mocha VNC – This is my favorite VNC client on the iPhone. Use it to view and interact with your desktop anywhere. The touch screen is a little awkward when interacting with Mac OS X or Windows, but if you just need to check on a program or view a document it works great.
7. Flycast – I love this app for the ability to listen to local radio stations from around the country. I love KEXP out of Seattle, but just about every major market has a selection of local stations to choose from. Flycast also offers a great gateway to Internet radio. The latest version sports a terrific search feature that allows you to search by artist or keyword.
6. Remote – There are several other remote applications out there, but the original is still the best. This app uses the same basic interface as the iPod to control your iTunes over any wireless network. It's simple and elegant and does exactly what you need it to do.
5. Orb Live – The iPhone holds 8, 16 or 32 gigs of data, but how are you supposed to choose from your 500 gig music library? Thanks to Orb you don't have to choose. Just set up a free account and stream all of your media to your iPhone. What's even better is that it works over 3g and yes, even edge.? Listen to your music, watch your movies or view photos stored on your hard drive from anywhere, at anytime. The only downside is that currently the server software is only available for Windows, but a Mac version is promised soon.
4. Ambiance – The original app was great, but the newest version is amazing. You are literally offered hundreds of choices in ambient sound to download for free. These sounds can be categorized into lists, or even create mixes of multiple sounds. This version comes complete with a timer and alarm, which allows you to fall asleep to the sound of gentle rain and wake up to birds chirping. Very peaceful.
3. Stanza – Simply put this is the best digital book reader on the iPhone. It doesn't get the recognition of Amazon's Kindle application, but it beats it in every category. You have access to multiple collections of public domain works of fiction, paid online bookstores and even the entire O'reilly online catalog. Amazon recently acquired Lexcycle, the development house behind stanza, so it will be interesting to see what becomes of this great application.
2. Pandora – I cannot overstate the greatness of this application. Having Pandora in my car for long trips is a lifesaver. The best-personalized Internet radio station is a perfect fit for the iPhone.
1. Tweetdeck – I had recently changed Twitter desktop clients, but Tweetdeck's iPhone entry is so incredible it forced me to switch back. Not only does it have all of the great features you've come to expect from Tweetdeck, but it also offers syncing with your desktop application. If only it supported a landscape keyboard it might just be perfect.
Okay guys, that's the list. These are my favorites. Please feel free to disagree, or point out apps you think I've overlooked.