New Media Rock Stars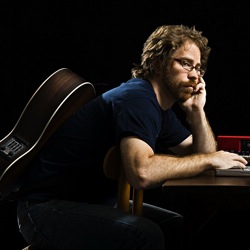 Attention! The Internet is no longer just a supplement for old media. In the past few years, we have witnessed the rise of the first generation of legitimate Internet superstars. These are not old media icons that translated their fame into digital success. Rather, they utilize technology as their primary medium because they were raised with it. They are as comfortable with digital distribution as the average Boomer is watching television or reading a book.
Stars like Jonathan Coulton, The Gregory Brothers, Rhett and Link and The Lonely Island have surpassed simple cult status and rocketed into the mainstream of American consciousness. If these names don't sound familiar to you, it's not because you aren't acquainted with their work. The Lonely Island is a comedy troupe composed of Akiva Schaffer, Jorma Taccone and Andy Samberg, whose work you have no doubt seen on "Saturday Night Live." You have likely heard Jonathan Coulton on NPR's "All Things Considered" or in the hit video game Portal. Coulton makes his songs available under a licensing agreement that allows fans to create their own music videos or alter the compositions in strange and unique ways. These fan mashups help to spread Coulton's work far and wide and make it almost impossible to calculate his current reach.
The Gregory Brothers broke out in 2010 with the "Bed Intruder Song," which to date has been viewed over 75 million times (plus another 20 million on their iTunes extended version).
To gain a little perspective, Super Bowl XLV garnered
111 million
viewers on Fox. That's right, I just compared a YouTube video to the Super Bowl. And while the Super Bowl's number is static, the viral video's viewership continues to grow (you likely just contributed to the total). No doubt it will easily surpass 111 million viewers in its lifetime. In December, YouTube announced "Bed Intruder Song" as its
most watched video
of 2010, no small feat indeed. What's more, the song peaked at number 89 on the
Billboard Hot 100
chart and was the only song to do so based on iTunes downloads alone.
Comedy duo Rhett and Link, who call themselves "Intertainers," turned their successful YouTube video "T-Shirt War!!" into an opportunity to re-create the short as a 30-second commercial for McDonald's and Coca-Cola.
Rhett and Link collaborated with fellow YouTuber
Mystery Guitar Man
, who specializes in complex stop-motion videos, to create a unique experience that has translated to audiences both online and offline.
This April, some of these successful YouTube musicians are taking their talents on the road for the first YouTube concert tour. Catch acts like the aforementioned Gregory Brothers and Mystery Guitar Man along with Dave Days, Destorm and Ricky Ficarelli on a 27-city tour starting in April. Dubbed the Digatour, this lineup is composed solely of YouTube stars and looks to increase the exposure of the channel as a primary vehicle for success.
And, of course, how could I write an article about Internet celebrities without mentioning Justin Bieber, who was discovered when a talent manager happened across his YouTube videos. Beiber is a force unto himself right now, and there is no telling how high his star will rise. Whether you are a fan or a hater, let's face it, "Bieber Fever" has gripped the nation, and he is enjoying megastar success like other teen idols before him. The one difference, it all started with a YouTube video.
It's time to come to terms with the fact that Internet entertainment is not just a platform for LOL Cats and YouTube isn't just a place to post funny videos of cute kids. Reality is starting to set in, and that reality tells us that more and more young talent is choosing to distribute their work online where they have greater control over the way the content is delivered. Also, it's worth noting that the types of media that can be uploaded, streamed, linked and viewed online are raising the bar for all forms of information consumption. Digital distribution has invaded your computer, your car, your phone, your television and any other device powered by a chip. Unlike what television did to radio before it, the Internet is not looking to surpass old media. It's looking to completely replace it.