Uncharted 2: Among Thieves – Playstation 3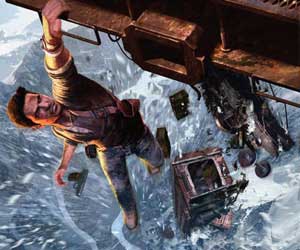 Expectations were high for this Playstation exclusive sequel and the developers at Naughty Dog did not disappoint. The game sports both excellent game play and a superb storyline. And, unlike most games with such in-depth single player action, Among Thieves has a rich multi-player offering as well.
Now, I know there are some of you out there that just can?t picture yourself playing a third-person perspective game in a multi-player mode, but don?t dismiss this game without giving it a whirl. The ten-player death match is easy to pick up, but just hard enough that it keeps you coming back. Admittedly, aiming and general gunplay in a third-person will take some adjustment for those of us accustomed to Call of Duty or the Halo franchise, but the transition is well worth it. Overall, I?ll vouch that this is the some of the best online multi-player action you are likely to see this year.
However, it?s not the online play that sold me. I?m a sucker for story and this one?s a doozy. I?ve long said that the evolution of the long-form narrative belongs to video games and Uncharted 2 is another step in that direction. Anyone out there who grew up watching the Indiana Jones franchise will appreciate the treasure hunter feel evoked by Nathan Drake, right down to the ?I?m making this up as I go along? attitude. Drake?s banter keeps the story moving and makes the transition play lively. But what Among Thieves does better than anyone else are the cinematic scenes. This game almost feels like an animated movie that just happens to have player interactions. Don?t get me wrong; the gaming is fantastic, but at times it?s almost inconsequential to the larger story. It is as if it was a necessary, but entertaining, distraction to move you on to the juicier plot points.
Finally, Sony has another exclusive franchise that can give gamers a good reason to purchase a console. This release is timed perfectly along with the new PS3 slim at the lower price and just in time for the holiday buying season. For the first time since it?s inception Sony?s Playstation 3 might have a holiday lineup superior to that of the Xbox. With Uncharted 2 and Ratchet and Clank: A Crack in Time (in stores October 27th), Sony is making a strong play at Microsoft?s dominant market share.
I?ve long made my position known. I think the PS3 is the superior gaming platform. I?m just glad there are finally some games like Uncharted 2: Among Thieves that justify my opinion.