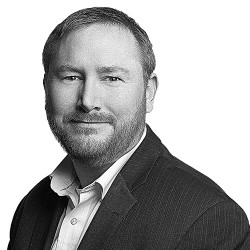 The devil is in the details. As Director of Digital Production and head of the Project Management Office at The Richards Group, Joe Wilson loves working out the details on projects big and small. His mother always told him he asked too many questions, but Joe just couldn't help himself. When it comes to the task at hand, He always needs to know the what, why, where, when and how.
Joe is responsible for taking the "impossible" dreams of the strategy and creative teams and finding a way to make it happen, on time and under budget. He's managed digital projects for clients including Biltmore, Dr Pepper Snapple Group, MetroPCS , and The Home Depot.
As is appropriate for a man who spends most of his time knee-deep in interactive technology, Joe is a tech geek. When not hard at work, you can usually find him reading up on the newest gadgets, listening to the latest technology podcast or tinkering with some new software. So go ahead, call him a nerd. He's comfortable with it.