LucyPhone Waits On Hold For You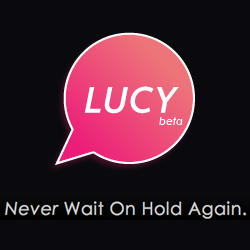 How many hours of your life have you spent on hold? LucyPhone.com is a service that looks to put an end to the need to sit on hold for hours just to talk to a live person. All you do is select the number of the company you need to reach and enter your number and LucyPhone takes over from there. The service patches you into your desired number and you navigate the phone tree like normal. Once you get to placed on hold waiting for that ever-elusive human being just press ** and then hang up. LucyPhone will stay on hold for you and call you back as soon as the live person picks up. If for some reason you get put on hold again don't fret; just press ** again and LucyPhone will call you back again when the wait is over, no matter how long it takes.
LucyPhone works like a charm, but the one feature I would love to see the LucyPhone creators at Decogram add is the ability to automatically navigate the phone tree so I don't have to waste time pressing the right button to get to the right place. Apps such as Fonolo offer this service already but without the ability to skip the hold time like LucyPhone. The phone tree is annoying and being able to navigate directly to a live person would make LucyPhone the perfect personal phone assistant. Just pick a company and let Lucy do the rest. Hopefully we will see this feature added once LucyPhone is out of beta.

By handling the hold time for me LucyPhone places much needed time back into my busy day. Waiting on hold is always a drain on productivity. Automation is cheap. Any payroll manager worth his salt will tell you that phone support is a drain on profits. Companies are spending less and less on actual humans on the phones, opting instead for complicated phone trees and automated messages. This trend leads to longer and longer hold times. I know that I've spent well over an hour waiting on a real flesh and blood human before giving up in frustration. LucyPhone allows me to reclaim my serenity and productivity in the face of maddening hold times.
LucyPhone from Decogram Corporation on Vimeo.