Pencil by 53 – iPad Stylus
Pencil is at it's core a stylus for your iOS device. But the team at 53 knew that for a stylus to be useful, it would have to do more than than simply replace your finger. Pencil can do this by allowing the stylus to connect to your device via BLE or Bluetooth Low Energy. This new standard in Bluetooth technology allows devices to communicate with one another without the drain to battery life that has traditionally come with pairing a bluetooth device.
What this means for Pencil is an added set of inputs for your stylus. For instance Pencil comes with an eraser on the end of the stylus that works just like an eraser when using it with Pencil compatible apps such as 53's Paper. It also allows the app to tell the difference between the stylus tip and your finger. This provides for new functions for your finger such as smudging when drawing. Also, with the introduction of iOS8 the stylus has pressure sensitivity. The line of the stylus can be darker or lighter, thin or wide based on how firmly you press.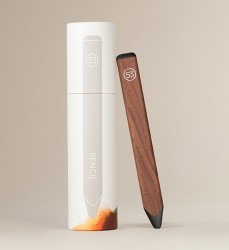 The downside to all of these features are that they don't work universally across your iOS device. They are limited to a small number of compatible apps that can connect to the stylus. Along with 53's Paper, several other apps make use of the stylus such as Procreate, an app for making illustrations; Noteshelf, which will allow handwritten notetaking; and Squiggle, which will add a new dimension to its music app. The good news is that 53 just released an open SDK (software development kit) for developers to use when building apps to work with Pencil. Hopefully this will lead to new apps that take advantage of Pencil's features and functionality.
Pencil comes in two different versions, a Graphite version for $49.95 and a Walnut version for $59.95. The Walnut version has the added feature of a magnetic strip that snaps onto the Apple branded iPad smart covers and cases. For artist or creative minded users Pencil probably makes sense and provides some very usefule featurs. For everyday users, it may be a little pricey for a stylus. As with most other iPad styli it features a large tip that makes handwritting and other percision inputs cumbersome. If you don't plan to use the other features such as eraser, smudging, etc., you might be better served with a less expensive stylus like the Bamboo Solo. Overall, Pencil by 53 is an interesting tool for power iPad users. At the moment, however, it is still limited to a niche market.